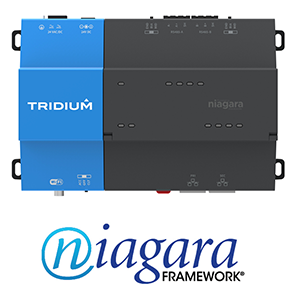 AIS BMS proudly support a number of the leading building controls and automation products. This week's AIS BMS capability spotlight shines on Tridium.
"From office towers to manufacturing plants, hospitals to hotels, airports to convenience stores, in single buildings or multi-building campuses—Tridium's Niagara Framework® is a global leader in the complex challenges of building integration and enterprise connectivity.
Niagara is a complete management and control solution, used to create buildings that are smarter, more efficient, safer, use less energy, have lower operating costs, contribute to a sustainable environment and deliver a substantial ROI.
Niagara offers compelling value to building owners and facility management. With Niagara, conventional facilities can be transformed into dynamic, flexible and intelligent buildings with higher efficiencies, lower costs and greater returns.
From security to elevators to HVAC to lighting, Niagara enables comprehensive monitoring and management of nearly every aspect of your facilities".
AIS BMS are able to supply, install, maintain and upgrade any generation of Tridium Controls products with our manufacturer trained and certified engineering team, from AX to N4!.
"Tridium Products and solutions are delivered by AIS BMS through their strong relationship with Tridium Distributor Forest Rock. Forest Rock have no hesitation in recommending AIS as a channel partner where clients are looking for an experienced service provider of Tridium and Niagara based BEMS products."
Ben Summers - Forest Rock Systems
Click here to find out more about Tridium and here for Forest Rock Control Systems.
If you have a Tridium building energy management system in your building then you need to be talking to the best service provider, AIS BMS.