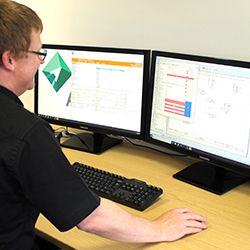 The AIS BMS Energy and Building Performance Centre has been working closely with CBRE GWS to implement a full building analytics package for a prestigious site in London.
CBRE have ordered a comprehensive analytics package comprising of around 10,000 data points, supported by our innovative Managed Service provision. All engineering, configuration and ongoing support is being delivered by our specialist engineers based at our Energy and Building Performance Centre in Slough.
"AIS BMS have worked closely with us to develop a solution that fits the needs of our client and that of CBRE GWS perfectly. Their technical capability and analytics platform are superb and we are keen to yield the benefits of this innovation." – Jason Hunt – Account Manager – CBRE GWS
"Working with enlightened and forward thinking clients is always a welcome experience and the chance to work with Jason Hunt of CBRE GWS to develop this implementation of our powerful building analytics platform, Kaizen, is a great example of collaborative working with the best interests of the client at heart.
Our analytics solution will provide the client and CBRE GWS' team with powerful insights highlighting operational issues and causes of excessive energy consumption, leading to directed maintenance resources delivering more rapid fault resolution and higher operational availability while minimising operational costs." – Marc Baker – Building Performance Engineer – AIS BMS.