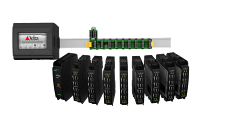 AIS BMS proudly support a number of the leading building controls and automation products. This week's spotlight shines on Delta Controls.
"Delta Controls is one of the largest manufacturers of building automation systems with more than 300 installers in over 80 countries. For more than 3 decades Delta Controls has offered dependable and user-friendly building control solutions to commercial, healthcare, education, leisure buildings and more. As industry leaders, our track record includes delivering the world's first fully integrated native BACNet building solution encompassing HVAC, Lighting and Access products. As part of Delta Electronics Inc. an $7+ Billion USD organization, the Delta Group of companies is able to bring some of the most energy efficient and sustainable solutions to buildings around the world. "
AIS BMS are able to supply, install, maintain and upgrade any generation of Delta Controls products with our manufacturer trained and certified engineering team.
"Delta Controls has worked with AIS BMS for many years, from major projects through to our innovative analytics solutions. We would wholeheartedly endorse AIS BMS to clients looking for excellence in service, maintenance and energy solutions" - John Brough, Director of European Operations, Delta Controls
Click here to find out more about Delta Controls.
If you have a Delta Controls building energy management system in your building then you need to be talking to the best service provider, AIS BMS.